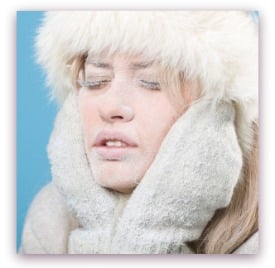 We like to share great tips here at ZENMED, but today we wanted to give you a little insight into the thoughts of other skincare experts from around the web. In this post, we're featuring 7 expert opinions on how to take care of your skin this winter. We've got a range of people from healthcare professionals to makeup artists helping us out here today. Enjoy!
"Many people don't know this, but it's more important to moisturize in the winter than in the summer! So keep the moisture UP in the winter months to maintain your beautiful healthy glow."
- Karuna Chani, KC Makeup
"I Use coconut oil on my face, body and hair. It's amazing. My skin feels supple, soft and does not dry out. I purchase organic, extra-virgin coconut oil - food grade - because what goes on your skin gets absorbed directly into your blood stream!"

"I also make mist with water and lavender essential oil, which I spray on my body and face after showering. It has a lovely scent and is good for toning the skin."
- Carol Wasserman, Certified Holistic Health Practitioner
"In order to protect your skin from sun damage this winter, apply a broad spectrum sunscreen daily on exposed areas such as your face, neck and hands. Use a lip balm with SPF 15 or higher and reapply throughout the day. Shield your eyes by wearing sunglasses that have UV protection."
- Christina Kauffman, Owner of Blush Tan
"Gently exfoliating one to three times per week is a great habit to get into. This will remove dead skin cells, helping you keep pores clear and skin bright. It also allows for better product penetration. Try once per week and if you see that your skin needs more, you can experiment with two or three times per week. Apply your serum and moisturizer immediately thereafter."
- Kim Laudati, Skin Care and Laser Centers in Manhattan
"We lose color in our faces. Do yourself a big favor by using a yellow-based powder or foundation to neutralize the cold colors in your skin. The result leaves you looking healthier. Also, if you use a bronzer this winter, stay away from shimmer and choose matte ones instead."

"Concealer is a must in winter months. Our skin lightens the purple and blue undertones, then pink undertones pop out in their place. Always use an eye cream and put the concealer only where you need it. Do not put it under the whole eye. Blend with your fingers so the natural body heat helps it glide on smoother."
- Amanda Shackleton, Celebrity Makeup Artist
"Get your humidifier early. Don't wait until you turn up your heat. Many home heating systems dry out your skin. It's important for your skin and lips to put that moisture back in the air once the heat kicks on."

"Stay away from flavored lip balms. Chapstick that tastes good can cause you to lick your lips more, drying them out. Use neutral or plain flavored lip balms and use them often in the fall months to avoid cracking, red lips throughout winter."
- Dr. Jeff Benabio, Kaiser Permanente
"Hydrate from the inside out by drinking plenty of water or hot herbal tea to stay warm."
- Chanelle White, Holistic Beauty & Wellness Coach
So, there you have it! Comment below with your favorite tip that was shared today:
---