Every week we like to bring you a roundup of some of the latest trends in beauty, health and wellness, and other articles of interest to ZENMED blog readers. Last week, we came across some interesting  posts on common yoga mistakes, tanning and melanoma, skincare goof ups that are making you look older and healthy gifts for Dad.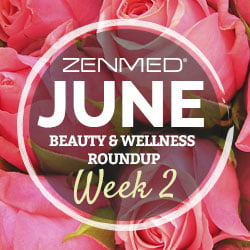 Top 10 yoga fails and how to avoid them
K. Aleisha Fetters shares common yoga mistakes many novices — and even pros — make and how to avoid them.  I've been practicing yoga regularly for several months. I still find myself learning the ropes and making mistakes with breathing. In fact, holding your breath makes the list of ten mistakes. Taking full body breaths may even prevent falls, the article says.  Other mistakes include pushing yourself too hard, overthinking the poses and arriving too soon after enjoying a meal.
Indoor tanning — even with no burns– raises melanoma risk
Science Daily shares results of a new study reported in the  JNCI: Journal of the National Cancer Institute. The research reveals that getting an indoor tan increases your risk for deadly melanoma even if you do not experience a sunburn.  Melanoma patients in the study who never experienced a sunburn  were about four times more likely to be indoor tanning bed users than control subjects. Additionally, melanoma patients with zero sunburns shared that they used tanning booths over a stretch of more years than other patients who had experienced sunburns and began tanning at a younger age. These results show that the greater the exposure, the greater the likelihood of getting melanoma.
20 skincare mistakes that are damaging your face
Julia Teen reports on twenty skincare sins that may be doing more harm than good. Topping the list is over-exfoliating, which makes sense. Why? When people see results from using an exfoliant, they are tempted to do it more frequently, believing that the results will be even more noticeable.  This actually can make your skin look worse. Failing to wash your face before hitting the sheets, sleeping on cotton pillowcases and using dirty makeup brushes also make this list. Not only will some of these skincare mistakes make you look older, they may contribute to acne flare ups.
6 Father's Day gifts for a healthy dad
In need to gift ideas for the special father in your life? Julie Revelant shares Father's Day gift ideas for health-conscious men. Her top picks include shaving oil, the Goji Play, a fitness health tracker and more. She also suggests a really interesting sounding monthly snack service subscription called Snack Nation. It's the snack equivalent to your monthly Birchbox.