Be on the lookout for the new sunscreen labels as you start picking up your sunscreen stock.
First and foremost, there will be no more exaggerations on amount of time your skin is protected from the sun when in water and no more claims of "waterproof" as there is no such thing as waterproof sunscreen!
The new word is "water resistant".  Huge difference. And in order to get the ability to claim water resistant, they had to prove it.  One more step to better prevention from the damage the sun can give.
I'm so glad to see this new step to sun-safety.  It seems that everyone I know believes sunscreen can last hours in the water, but the FDA made the sunscreen companies prove how long their sunscreens protected in the water.
This image is provided from the American Academy of Dermatology and it will help you pick the best sunscreen. (Click it to see a larger version.)  Remember, brands are all personal choice, but these are the important things to look for when searching for your sunscreen.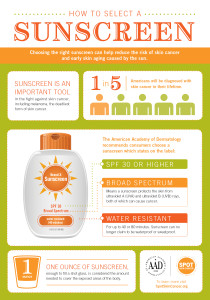 On the new labels, you'll see whether the sunscreen:
Is Broad Spectrum and has an SPF 15 or higher, which means the sunscreen protects against UVB and UVA rays and can help prevent skin cancer and sunburn.
Has a Skin Cancer/Skin Aging Alert in the Drug Facts section of the label, which means the sunscreen will only prevent sunburn and does not reduce the risk of skin cancer and early skin aging.
Is Water Resistant up to 40 minutes or 80 minutes which means the sunscreen provides protection while swimming or sweating up to the time listed on the label.
Water resistant up to 40 to 80 minutes.  Surprised? Please observe the labels and reapply, reapply, reapply.  Protecting your skin against the sun is the #1 way to prevent premature aging, sunspots and skin cancer.
Have you seen the new labels? Do you think they are easier to understand? What do you think about reapplying every 40-80 minutes?