Pumpkin! With the onset of Fall, and Halloween and Thanksgiving just around the corner, this fruit (yes! it's a fruit) is everywhere. Whether you are brainstorming about creative carving techniques or magazine clipping for all the delicious, new recipes you are dying to try, pumpkin is on the brain for many. I bet you didn't know, however, that this Fall icon actually packs a powerful punch when it comes to skincare. Here are 5 reasons you need to use a skincare product (like our new CLEARPEEL!) that contains pumpkin:
1. Fight your dry skin woes
Pumpkin packs a punch with fruit enzymes. Skincare products with pumpkin contain natural enzymes that help to dissolve dry skin cells and even promote the creation of new cells. This is why pumpkin is often found in peels or exfoliators. 
2. Dry skin? Oily skin? Aging skin? Sensitive skin? No worries.
Food for your face! Good news, pumpkin is gentle and can be used on any skin type.
3. Boost your collagen!
Pumpkin is rich in Vitamin C, which helps to increase collagen production. And why is collagen so important? It's a protein that helps to keep the skin firm. Firm skin means fabulous skin and boosting collagen will undoubtably help with wrinkles and fine lines.
4. It soothes and softens the skin
Pumpkin is also rich in Vitamin A, which has a whole whack of beneficial skincare qualities. For example, it hampers the breakdown of collagen, which is great for wrinkle prevention.
5. Tiny but mighty!
Let's get all sciency here for a minute. The molecular structure of pumpkin is comparatively small and can therefore can penetrate deeper into the skin when applied topically. This is good news if you are looking to brighten dull skin and fight the onset of aging.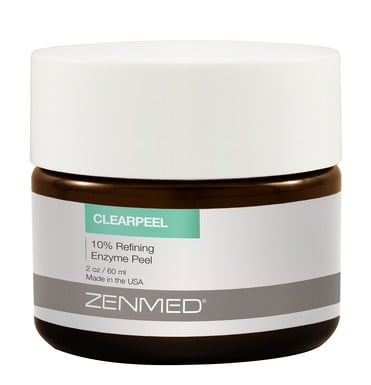 Does all this talk about pumpkin make you want to go out there and try something? We'd love to recommend one of ZENMED's newest products – CLEARPEEL. This is a great weekly treat for the skin and contains our hero fruit of the month, pumpkin.