Every week we like to bring you a roundup of some of the latest trends in beauty, health and wellness, and other articles of interest to ZENMED blog readers. Last week, we came across some interesting posts on printing 3D makeup at home, drinking sunscreen, gluten-free dieting and the multi-million dollar 'barefoot running' lawsuit.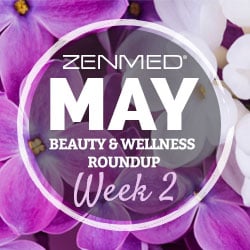 You can now 3D print makeup from your home computer
Laura Sampler tells us about s unique innovation created by Harvard Business School grad Grace Choi: 3D makeup at home. We've all heard of the recent boom in 3D printing, but printing out cosmetics is a whole new concept. Choi's invention is called Mink, which is a miniature printer for the home using FDA-approved ink. The machine is not limited to printing only  lipsticks, though. Choi recently demonstrated the process to a large audience at Tech Crunch and printed out a bright pink eye shadow in just forty seconds!
Skin Inc. reports on a brand new product — Osmosis Harmonized H20. Not just your typical bottled water, this product is being billed as the first drinkable sunscreen with the equivalent sun protection of SPF 30. According to the company launching the drink, 97% of both UVA and UBV rays are cancelled out. While there are supplements already on the market claiming to act as sunscreens, none on the market are in beverage form.
Chelsea Rice examines the increase in the number of people going on a gluten-free diet and asks whether the shift is based on hype or medical evidence. The article focuses heavily on research done by Dr. Alessio Fasano, founder and director of the Center for Celiac Research at Massachusetts General Hospital and Harvard Medical School. Fasano's work involves studying celiac disease and gluten sensitvity. While his day to day work is heavily invested in this topic, he questions why so many people are jumping on the gluten-free bandwagon when, indeed, they have no need. He also stresses that many people who go gluten-free for the wrong reasons end up gaining weight since many gluten-free products contain more calories than those with gluten.
Vibram, 'barefoot running shoe company' settles multi-million dollar lawsuit
False claims over the benefits of FiveFingers Shoes have cost Vibran $3.75 million, reports Emily Thomas. More than seventy million Americans may be entitled to cash as a result of the class action suit. Why? The  the American Podiatric Medicine Association has debunked claims made by the company promoting their shoes as beneficial, when in fact they may do more harm than good. If you have purchased FiveFingers after March 2009 and submit a claim form, you may receive between $20 and $50 as a refund.