Every week we like to bring you a roundup of some of the latest trends in beauty, health and wellness, and other articles of interest to ZENMED blog readers. Last week, we came across some interesting  posts on coconut oil's improved reputation, a link between skin moles and breast cancer, Google's new health tracking device and why probiotics may help your skin.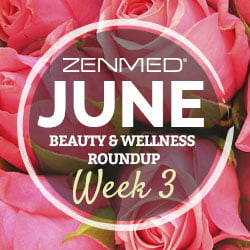 Coconut oil has new image as health, beauty aid
Once considered unhealthy because it is high in saturated fat, coconut oil is now a health and beauty all-star, reports Valerie J. Nelson. Why? Coconut oil is not the same as it was back a few decades ago. Back then, it was highly processed and refined, taking away many of its benefits. New research shows that while it may still be high in fats, not all fats are the same. In fact, many people  who add coconut oil to their diets find that their belly fat melts away and they are able to lose weight more quickly. The oil is also used as a natural beauty remedy to moisturize, ease inflammation and care for conditions such as eczema.
Skin moles tied to breast cancer risk, studies show
Reuters shares news of a startling link between skin moles and the likelihood of getting breast cancer. Based on new research in conducted by scientists at Brigham & Women's Hospital in Boston, women who had a greater number of moles on their arms were more likely to get breast cancer than women without moles on their arms. The researchers revealed that women with six or more moles on their arms had larger amounts of estrogen in the blood. We know that many breast cancers are estrogen-driven, so it is important for women to pay close attention to moles as a possible risk factor.
Survival of the digital fittest
Alexia Tsotsis reports on the soon to be launch health care tracking service called Google Fit, which debuts later in June. While Google Health was not well-received and ceased running in 2011, developers hope Google Fit will be different. The system will sync with popular wearable devices such as Fitbit and will store health tracking data such as weight, heart rate, running duration and more. Given the rise in people using these devices to track physical activity and measure overall fitness, it has the potential to be a success, giving Apple's similar program some healthy competition.
How probiotics will improve your skin
Kathleen Hou shares why eating more probiotic-rich foods such as yogurt may improve the quality of your skin. Unlike antibiotics, probiotics boost the levels of good bacteria. When this happens, it may reduce inflammation, harmful pathogens, and digestive troubles. Many believe that there is a link between an unhealthy gut and skin problems. We actually had a homeopathic doctor on the blog recently to discuss skincare and gut health. So just what will adding probiotics do for you? In addition to improving digestion, acne may decrease a bit and skin may have an improvement in overall clarity.