Every week we like to bring you a roundup of some of the latest trends in beauty, health and wellness, and other articles of interest to ZENMED blog readers. Last week, we came across some interesting posts on the eczema and skin cancer risk, Billboard Music Awards beauty, false claims on Kashi products, eight lesser known facts about Melanoma and the lifelong health consequences of childhood bullying.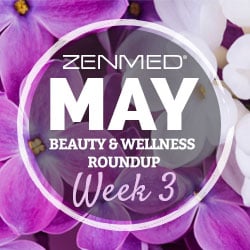 Skin cancer risk may be reduced by having eczema
Is there an advantage to having a skin condition like eczema?  Science Daily reports on a new study conducted by King's College London which says having eczema may reduce the risk of developing skin cancer. The research shows that the immune response that is brought on by the skin condition may prevent the formation of tumors because the cancer cells are shed as a side effect of eczema's dry patches.
Billboard Music Awards beauty: Sideswept 'dos are a thing
Lesley McKenzie reports on the biggest beauty trend spotted at Sunday night's Billboard Music Awards: sideswept hair. Everyone from Beyonce to Miranda Lambert to Jennifer Lopez donned a variation of hair that was swept to the side. The most important tip for pulling off this look at home? Celebrity stylist Jose Eber says that it is important to make sure the overall look is 'more Rodeo Drive than Rodeo.'
Kellogg to stop 'all natural' Kashi claim
We've all see Kashi products at the store with 'all natural' marked on the box. I even purchase the products for my children. Now, though, some of the products are under scrutiny. Bruce Horovitz tells us that Kellogg will no longer label certain Kashi and Bear Naked products with 'all natural' and 'nothing artificial' after being ordered to pay $5 million as the result of a class action lawsuit. At the center of the suit are certain ingredients in the products, including hexane-processed soy ingredients.
8 things you didn't know about Melanoma… but really, really should
Lexi Petronis  shares eight lesser known facts about the deadliest form of skin cancer from dermatologist Dr. Richard Bezozo. Melanoma can occur anywhere on the body, including parts that do not tend to see much sun exposure, such as between the toes and the sole of the foot. The doctor also explains that getting a tan in a tanning bed is actually worse than getting a tan outdoors, as the UV rays are more concentrated at the tanning salon. He also dispels the popular myth that getting a "base tan" can protect your skin from burning. The doctor's tips cover topics not always written about in other articles and is worth a read.
The long-lasting, toxic stress of being bullied
Louise Arseneault reports on troubling news concerning the lasting impact of bullying even into the adult years. While research continues to show that bullied children can have behavioral and mental health problems due to bullying, a new Duke University study shows that health consequences linger will into adulthood. The research indicates that bullying victims have high levels of  C-reactive protein (CRP) in their bloodstreams, similar to adults who suffered other forms of abuse as children. This protein is linked to an inflammatory response, as if the body is fighting off an infection.  The study also showed that the cortisol response after long-term bulling is impaired– demonstrating that bullying isn't a harmless rite of passage.