Every week we like to bring you a roundup of some of the latest trends in beauty, health and wellness, and other articles of interest to ZENMED blog readers. Last week, we came across some interesting articles on summer skin safety, Botox and depression, yoga stress and the hidden beauty of vitamin C.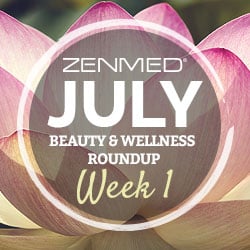 Summer skin safety tips from Dr. Christina Hantsch
Loyola toxicologist Dr. Christina Hantsch shares her summer skin safety tips with  ABC7 Chicago viewers. Of great concern this summer when it comes to skin safety: preventing mosquito and tick bites because of the risk of West Nile Virus and Lyme Disease. The doctor recommends using a product with DEET to repel bugs and prevent the harmful, even deadly, side effects of these viruses. Dr. Hantsch also  advocates the use of a broad spectrum sunscreen to prevent skin damage, noting that UV damage can be caused in just fifteen minutes.
How Botox can solve the depression epidemic
Taffy Brodesser-Akner reports on findings of a study in the Journal of Psychiatric Research linking Botox injections to a reduction in symptoms of depression. This is the first randomized, double blind study to yield results similiar to a smaller published study back in 2006. In the first study, 90% of depression sufferers experienced a remission of their symptoms. In the May 2014 study findings, 47% of the patients injected with Botox experienced similar results. These studies were pioneered by Dr. Eric Finzi and hopefully will lead to more breakthroughs when it comes to using Botox for more than just vanity.
5 yoga practices that beat stress
Dana Bisenius shares five tips on coping with the body's fight or flight response as a reaction to stress. This is not your everyday stress that she is addressing — she is talking about stress while practicing yoga. Her tips though, are relevant in terms of dealing with your daily stressors as well. Among the tips: focus on breathing to help mask your brain's negative talk, accept and recognize your feelings and then letting them go and being grateful for the preset moment. What about you? Do you get stressed while on the yoga mat?
The hidden beauty of vitamin C revealed
Becky Crew reports on one of the most effective skincare vitamins — but not in the way you would imagine. We all know that vitamin C is one of the best ingredients you can find in your anti-aging products, but a team of photographers has captured images of the vitamin under the microscope and the results are truly stunning. Vitamin C is a white powder when we look at it with the naked eye. Under a microscope, it is another story. After adding water and crystallising it, the vitamin is said to 'come alive' with colors and patterns similar to a kaleidoscope. Who knew that one of our favorite skincare ingredients would be so beautiful in other ways?