Every week we like to bring you a roundup of some of the latest trends in beauty, health and wellness, and other articles of interest to ZENMED blog readers. Last week, we came across some interesting articles on Vitamin D prolonging life, fungus and poison ivy, Liv Tyler's beauty secrets and help for bacne.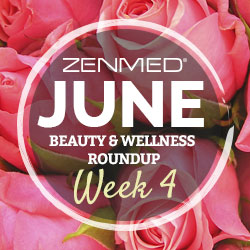 Is vitamin D the key to longer life?
Randy Dotinga reports on new analysis on prior research about the health effects of Vitamin D. Researchers have taken a more in depth look and the possible benefits of the popular vitamin supplement are quite amazing. It is now believed that higher levels of the vitamin may result in a higher life expectancy and reduction in earlier death due to heart disease and cancer. It is also believed that low levels of the vitamin are linked to earlier deaths caused by the two. This isn't definitive, but the lead author of the study at German Cancer Research Center in Heidelberg, Germany calls the findings "compellingly consistent."
A fungus may soon save you from the poison ivy itch
If you have ever had to endure the intense itching associated with poison ivy, you know that it is something you never want to experience again. Jason Tetro shares that a team at Virginia Tech may have just unintentionally stumbled upon a new treatment for the itching: fungus. Fungus? Yes.  While they were seeking to cultivate poison ivy for botanical use, they discovered that they were somehow killing the seedlings. The cause turned out to be a fungus, which led their research in a new direction. Further research is needed, but it may be possible that the fungus Colletotrichum fioriniae may help prevent people from experiencing the uncomfortable nuisance of poison ivy. If we hear more on this, we will be sure to share!
Liv Tyler shares beauty tips she learned from her dad
Steven Tyler of Aerosmith is probably not a person you routinely think of the most for giving sage beauty advice. Just Jared shares that his daughter, model Liv Tyler, learned several  tips growing up with her dad, though.  Liv says that her dad was always on a quest for voluminous hair, so he would use two hair dryers at the same time to pump up the volume. While Liv was looking for a sleeker, smoother look, she says that his example inspired her to start using facial masks and moisturizer regularly. Like father, like daughter!
You most likely have heard the term 'bacne' — acne found on the back. While many of us would rather have acne on our backs than on our faces, when summer time rolls around, there is no hiding those pimples. Tori Telfer shares tips from a dermatologist on caring for bacne. First of all, one of the causes of acne in this region is that people tend not to spend as much time or energy on back skincare. Skin on the back if often neglected, plus sweat and clothing trap sebum and debris. Shampoos and conditions often contain acne-inducing ingredients and they are left to run down our backs each and every day. How do you get the skin on your back to be clear? The dermatologist interviewed in the article advises using a spray with salicylic acid, as well as acne spot treatments and body acne products.