The almond is native to the Middle East. It became widely used in Northern Africa and Southern Europe and it was then transported to various other parts of the world including America.
Sweet almond oil is made from the dried kernels and is a relative of the peach tree. There are two varieties of almond trees. The first variety is the tree that produces pink flowers which is the bitter almond; this is used to make amaretto and cooking oils. The next variety is the tree that produces the white flowers which is the sweet almond; these are used as carrier oils and a base for skin care lotions.
Sweet almond oil is rich in vitamins A, D and E. It also contains linoleic and oleic acids. It is widely used in the skin care world because of its emollient qualities, which softens and soothes your skin. Because it has a lower level of omega 6 and 9 it is naturally less greasy and is perfectly absorbed by your skin, which allows your skin to benefit from the nutrients in the oil, which Leave you with beautiful radiant skin. It also contains quercetin and kaempferol that provide anti-inflammatory properties, and antioxidants that help to protect your skin against sun damage.
As the oil has emollient qualities it is perfect to use to help smooth and reduce scar tissue that is associated with the after effects of acne, stretch marks and dark spots on your skin. The almond oil helps keep the moisture levels in your skin perfectly balanced which promote an overall evenness in the colour of your skin.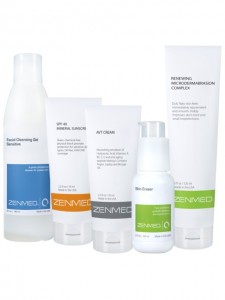 Zenmed Complete Skin Eraser Kit will help remove acne scars and darks spots on your skin.
Acne scars can be very stubborn, this extremely effective kit contains an array of natural ingredients which makes it essential in the treatment of acne scars and dark spots. As it is a professional medicated skin lightening agent it will help you to achieve flawless radiant skin.
Sweet almond oil is extremely effective as a massage oil and is used to treat inflammation, rashes and muscular pain.
Sweet almond oil is also beneficial for treating the scalp, preventing hair loss by strengthening the hair follicles. The natural oil can also be used internally as a digestive. Many different cultures use the oil as a pain killer and in the reduction of high cholesterol.
If you suffer from acne scars, stretch marks or black spots then I highly recommend your try sweet almond oil and you too will see a positive change in your skin.